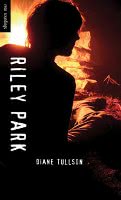 I read Riley Park on TumbleBook Cloud which can be accessed through LCPSGO Library Resources.
Best friends Darius and Corbin are at Safeway picking up a few items for a party that evening at Riley Park, when Darius spots Rubee. They realize that Rubee has probably broken up with her boyfriend so Darius invites her to the party at Riley Park.
The party is fun until the end.  Everyone has left except Darius and Corbin, when three strangers attack them.  All Corbin remembers is being attacked from behind and getting hit in the head with an incredible force.  He ends up in the hospital with a traumatic brain injury and also finds out that Darius is dead.  The question is who did it?
Many clues are given in the book:
steel bar
taller of same height as Corbin
"Wildman"
red and white roses
Rubee's blackeye
teddy bear
Jason
Light color Acura
"Sometimes it's not a straight line to the truth."  Read the book to find out.
Latest posts by elizabeth.johnson (see all)