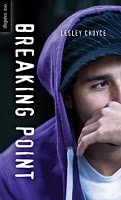 I read Breaking Book by Leslie Choyce on TumbleBook Cloud which can be accessed through LCPSGO Library Resources.
Cameron, one of the main characters, has experience being in trouble with the law.  This time he has been sent to an outdoor program called Camp Mosher which is on the Eastern Shore of Nova Scotia.  There he forms an instant connection with Brianna and she convinces him to steal two kayaks, escape the camp, and head to Montreal where her cousins live.  They decide to leave camp even knowing that a hurricane is approaching.  They almost die as the waves pick up and Cameron's kayak is overturned.  They make it to shore and ride out the store under a rocky cove.  Brianna leaves but Cameron catches up with her.  She tells him that she has no cousins in Montreal and that she wants to go back to camp.
This book is about survival and realizing that your actions have consequences.  It is a fast paced read with lots of action.  The character development is weak and the storyline is someone predictable though.  I give this book 3 stars.
Latest posts by elizabeth.johnson (see all)