The Best Premier League Signings of the 18/19 Season
 There have been many new and exiting transfers made over the summer. Many high profile players, as well as younger players making a name for themselves in the Premier League. Here I will list some of the best acquisitions made by teams over the break.
Richarlison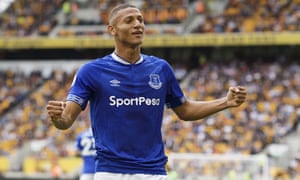 Richarlison was signed by Everton from Warford for 40 million pounds. A pricey fee for the 21 year old Brazilian but, so far it has worked out for the toffees. Richarlison has racked up 6 goals in 11 appearances for Everton in the Premier League so far. His flair and clinical ability was something that Everton was looking for. Since he is so young, Richarlison is set up to be Everton's front man for years to come or to move onto a bigger club in the future. Richarlison's play for Everton has earned him a call up to the senior Brazil national team for the first time in his career.
Lucas Torreira
Lucas Torreira was another summer signing by another big club in England. Torreira was signed for 26 million pounds by Arsenal from Sampdoria. He immediately made his impact at Arsenal becoming a player Unai Emery cannot afford to drop from the squad. Torreira has drawn comparisons to 2 time Premier League champion and world cup winner N'golo Kante. Torreira is a small midfielder who can win the ball and control the midfield. He is a very promising player and at only 22 years old he has a lot of room to grow.
Alisson
Alisson is another great signing by a Premier League club. He was signed by Liverpool from Roma for 66.9 million pounds. He's a Brazilian goalkeeper and has had a terrific start to the season. He has a total of 8 clean sheets in 13 appearances in the Premier League. That is due to Liverpool's stellar defense but also good goalkeeper play. He will be the number one at Liverpool for a long time and also on the Brazil national team.